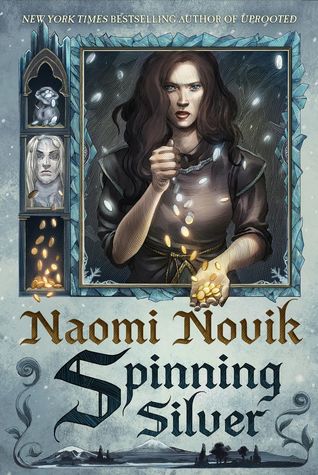 Miryem is the daughter and granddaughter of moneylenders... but her father isn't a very good one. Free to lend and reluctant to collect, he has loaned out most of his wife's dowry and left the family on the edge of poverty--until Miryem steps in. Hardening her heart against her fellow villagers' pleas, she sets out to collect what is owed--and finds herself more than up to...
| | | |
| --- | --- | --- |
| Title | : | Spinning Silver |
| Author | : | Naomi Novik |
| Rating | : | |
| Edition Language | : | English |
Spinning Silver Reviews
I'm. Just. SO. Happy.

This is completely different from UPROOTED. Kind of. It's still a fairytale-like story, but it's wholly unrelated to the Dragon and Agnieszka. There are no awesome tree people. There's no wooden Kasia or royal orphans or upstart wizards.

There

awesome some-other-kind-of-people who may or may not be wintery in origin. And a not-so-awesome demon. And not one, not two, but THREE new heroines, all hampered by expectations, all saying, EFF that, RAWRRR.

Full RTC.

I loved Uprooted. Lets see what she does with this.

Mwahahahahahahahahahaha!!!!!! I read this early!!!!! >:)

It's definitely the spiritual successor of UPROOTED. It has all the heart, family, riveting magic you could ask for, and a gorgeous slow burn/unveiling of feelings that will make you desperate to turn the page and loathe to finish. Also. I loved the ending. It's definitely up there with top 10 book endings.

aaaah IT'S HAPPENING! This is everything I wanted omg.

This was by far my favorite novella in

but I was desperate for it to be turned into a full novel so I could see MORE. The whole story was absolutely mesmerizing. It has an elf lord who demands that the girl change his faerie silver to gold and was just everything I love in a story. Can I already call this one of my favorite reads of 2018??

So looking forward to petting this book. Oh, and reading it too! ❤

So looking forward to petting this book. Oh, and reading it too! ❤️

The author of

strikes again, with what appears to be a take-off on Rumpelstiltskin. Can't wait for July!!

HOW THE HELL DID I NOT KNOW THERE WAS GOING TO BE ANOTHER BOOK??!

IM FUCKING SCREAMING THE COVER *

*.

IM SO HAPPY THO ITS EVERYTHI--

256 PAGES?????!

2 5 6???????????!

two hundred and fifty six pages.......????????????!

???!!

.... --whatever im still happy as fuck.

Do y'all know how long I've been waiting for a Rumpelstiltskin retelling?